BSU celebrates 103rd Foundation Anniversary, 119th Civil Service Month
---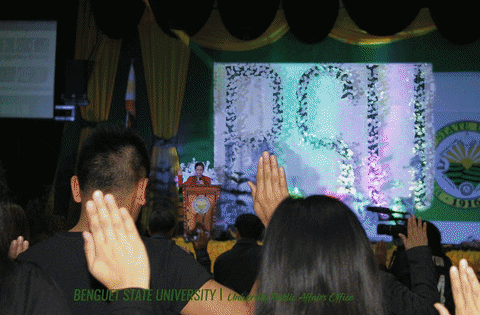 Benguet State University commemorated its 103rd Foundation Anniversary with the observation of the 119th Philippine Civil Service Month through a series of activities in September.
The Foundation Anniversary with the theme "BSU: 103 years of contributing to the attainment of the Sustainable Development Goals" remembered the beginning of the University way back in September 1916 when the Experimental Station of the Bureau of Agriculture in La Trinidad was transferred to the Bureau of Education.
On the other hand, the 119th Philippine Civil Service Month with the theme "Civil Service at 119: Upholding Integrity and Building a High-Trust Society" likewise commemorates the founding of the Philippine Civil Service.
The month-long celebration was highlighted with various sports and wellness activities, BSU Cañao held on September 17, 2019, the Thanksgiving Mass officiated by the La Trinidad Ecumenical Council of Churches followed by the 103rd Foundation Day Program on September 18, 2019.
Although the invited guest speaker, DA Secretary, Dr. William D. Dar was not present, a video that presented his beginnings as BSU student, faculty member and administrator was shown. During the 6th Regional Organic Agriculture Congress held on September 20-21, 2019 at the BAPTC, Dr. Dar began his speech by sharing some of his experiences while in BSU and identifying himself as one who is also from the highlands considering the years he lived in La Trinidad. Before the secretary went on to express his support for organic agriculture, he encouraged the congress participants to maximize the presence of BSU.
"Benguet State University is one of the prime Higher Educational Institutions in this country and let's elevate further, let's really maintain the quality of education being given by Benguet State University to the human capital requirements of this region, if not, the country," he said. Since 2009, Dr. Dar has sponsored the Dr. William D. Dar Leadership Award given to students with excellent academic performance and leadership.
The Foundation Day Program was attended by invited guests from the Philippine Economic Zone Authority (PEZA)-Baguio, BSU Alumni Association, National Bureau of Investigation (NBI)-CAR, National Youth Commission, Kalinga State University, Civil Service Commission (CSC)-Benguet, Agricultural Training Institute (ATI)-CAR, Department of Trade and Industry (DTI)-Benguet, National Housing Authority (NHA)-R1/CAR, Landbank La Trinidad, Bureau of Fire Protection (BFP)-CAR, Barangay Balili LGU, Department of Public Works and Highways (DPWH)-CAR, Environmental Management Bureau-Department of Environment and Natural Resources (EMB-DENR), Commission on Human Rights (CHR)-CAR, Commission on Audit, and Department of Agriculture (DA)-CAR.
Dir. Cornelia Padinay of the Civil Service Commission-Benguet led the Panunumpa ng Kawani ng Gobyerno. Former BSU President, Dr. Rogelio D. Colting who is now with Our Farmer's Haven (OFH) also graced the event.
BSU President, Dr. Feliciano G. Calora acknowledged the guests whom he addressed as 'partners for development.' He urged the BSU students and employees who are present to reflect on how to collaborate for the University to reach higher levels of recognition.
Well-being for students and employees recognized
To give importance to the overall well-being of employees, the Human Resource Development Office (HRDO) held the Career Ladder Jump Start Orientation on September 11-13, the special treats for employees on September 16-20, the Multi-Disciplinary Discourse (MDD) VI on September 21 and the PRAISE-EVERLASTING Awards on September 26.
The PRAISE-EVERLASTING awardees under the Excellence in Job Performance are Dr. Belinda A. Tad-awan as Outstanding Teacher for Meritorious Performance; Dr. Ruth S. Batani as Outstanding Research and Extension Manager; and Mr. Genaro W. Macasieb, Jr., Mr. Paul Joseph A. Nuval, Dr. Denisa C. Domondon and Dr. Joel V. Lubrica as Outstanding Thesis Advisers. Under the Greatness in Achievements category, the awardees for their award winning papers are: Bernard S. Tad-awan, Joel S. Acyapas, Marjorie S. Salavaria, Janet S. Luis, Robert C. Kemerait, Jr., Anthony E. Glen, Ruth S. Batani, Rhea S. Loncio, Kacy O. Labon, Raiah S. Batani, Romeo A. Gomez, Jr., Teresita D. Masangcay, Constantino T. Sudaypan, Julie I. Calatan, Almira P. Bentadan, Ann Heather S. Kiwang, Marciana M. Balusdan, RaizaBlase H. Pangosban, Dominga E. Gabriel, Dalen T. Meldoz, Betty T. Gayao, Grace S. Backian, Alima N. Bedejim, Cheryll C. Launio, Maricris C. Sotelo and Lester Clyde B. Angel. Maricris P. Lad-ey-Neyney and Lance Angelo B. Layugan were recognized for being topnotchers in the 2018 Board Licensure Examination for Psychometricians while Martes D. Dionisio, Jr. was recognized for being awarded as Outstanding LET Reviewer by SMART FITS Cordillera. Meanwhile, Jamesly T. Andres, Leonard T. Apilis, Leila Marie A. Ayban, Darwin A. Basquial, Jennie M. Bito, David Joseph L. Bognadon, Gemma S. Das-ilen, Eugene S. Lumasok and Jude L. Tayaben were recognized for completing their PhD degrees.
Likewise, the Institute of Human Kinetics (IHK) facilitated a Sports Tri-Meet between BSU La Trinidad, Buguias and Bokod on September 17 while the and the BSU Government Employees Association (BSUGEA) organized an employees' forum on September 16 and a fun run on September 18. The Faculty Club held the Teaching Employees Capability Building on September 19 while the Research and Extension sector held a Flower Arrangement Seminar on September 17 and Dish Gardening Seminar on September 18. The University Health Services in partnership with the College of Nursing organized a bloodletting on September 23. In September 26, the UHS held a Dengue Awareness Information Drive in partnership with the College of Agriculture-Entomology Department.
Activities for the students and the general public organized by the Office of Student Services (OSS) includes the Foundation Day Jobs Fair on September 20 and the OSShayao 2019, an annual recognition program for student leaders and organizations. The OSShayao 2019 awardees are: Interdependent Study Organization for Students (CVM)- Outstanding RSO for 2018-2019; Public Administration Student Government (IPA)-Outstanding RSO 1st Runner Up; Nursing Association of Responsible Students (CN)-Outstanding RSO 2nd Runner Up; Claire G. Alos (BSAEng) and Gabriel S. Tugbo (BPA)-Outstanding Student Leaders (Graduating); Christwarren P. Lagman (BSHE) and Hazel Joy B. Tacudog (BSE)-Outstanding Student Leaders (Non-Graduating); Agribusiness and Economics Majors Society (CA)-Best in Organizational Management; CTE Student Government and sub-organizations-Best in Income Generating Activities; Venerable Knight/Lady Veterinarian Fraternity/Sorority (CVM)-Best in Extension/Outreach Activities; Young Environmentalists Society (CAS)-Best in Environmental Sustainability Activities; and Rodeo Club Philippines BSU Chapter (CVM)-Best in Public Information/Education Activities.//JSTabangcura