BSU-ROTC continues to reign RAAATI for three-consecutive years
---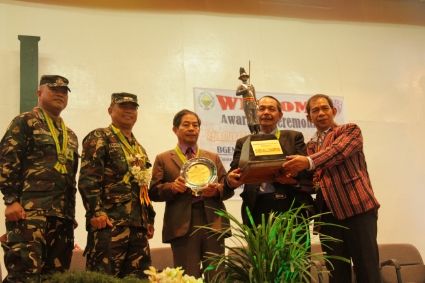 BSU President, Dr. Ben D. Ladilad with BSU NSTP Coordinator Angel C. Cawat and VP for Business Affairs, Dr. Jones Feleciano received the trophy for the BSU ROTC Unit from Gen. Alexis D. Tamondong, the Guest of Honor and Speaker during the RAATI 2013-2014 Awarding Ceremony on June 27, 2014 hosted by BSU being the champion for three consecutive years. Also in photo is 1st RCDG, ARESCOM Group Commander, Col. Pedro C. Dulos Jr.
Expectedly, the reigning champ, BSU-ROTC Unit, has again emerged this year's champion of the Regional Annual Administrative Tactical Inspection 2013-2014 with a score of 96.35 points, the highest out of 14 participating schools in CAR and Region I. Next to BSU is the Mariano Marcos Memorial State University in Batac, Ilocos Norte, at Second Place and the University of Northern Philippines in Vigan City, at Third Place.
As the three-year consecutive champion, BSU was privileged to host the awarding ceremonies graced by Brigadier General Alexis D. Tamondong as the Guest of Honor and Speaker. He is the Commanding General of the Army Reserve Command.
Gen. Tamondong commended the BSU administration for its all-out support to the ROTC program. He reiterated that ROTC (Reserve Officers' Training Corps) is a matter of national interest as stipulated in RA 7077 also known as the Citizen Armed Forces of the Philippines Reservist Act.
"The result of the RAATI 2013-2014 in this region is very encouraging compared with previous years when ROTC enrollment is on a standstill," said Gen. Tamondong who is also a product of advanced ROTC training.
Meanwhile, BSU President, Dr. Ben D. Ladilad, encouraged the BSU ROTC cadets to maintain their performance and aim high to be a national hall famer.
Also present in the awarding ceremonies were BSU Overall NSTP Coordinator, Prof. Angel C. Cawat; 1st RCDG, ARESCOM Group Commander, Col. Pedro C. Dulos Jr; and Assistant Commandant Cpt. Cecilio M. Rivera.